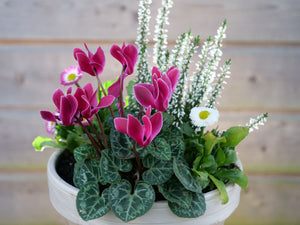 Launched in 2021, PlantGift is a family run Irish business dedicated to providing you with the 'Gift that Keeps on Growing'
PlantGift delivers beautiful, customisable, outdoor potted plants across Dublin and surrounding counties. Our sustainable gifts come in a range of stylish outdoor ceramics, freshly planted with this season's freshest perennials.
PlantGift aims to disrupt the cut flowers market by offering you an alternative sustainable gift that keeps on growing. Unlike bunches of flowers that survive weeks at best, PlantGift potted plants will live as long as you care for them. PlantGift perennials will re-grow each season bringing you continuous joy.
PlantGift are proud to bring you pots and plants from nurseries within Ireland.

Personalised Gifts
We also like to offer you something different, something unique. We give you the ability to personalise each pot with a message or quote to make your PlantGift a thoughtful sentiment for every occasion.
Personalised gifts are a great way to show people that you really care. Who doesnt like to be told that they are 'Bloomin Gorgeous'!